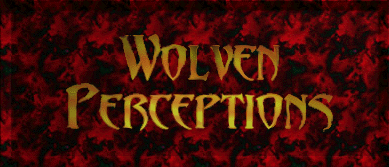 ---
This Image Gallery contains a large portion of the work created by Wolven Perceptions.
---

General Natasha formerly of SherwoodMUCK Midas of SherwoodMUCK Wilf of SherwoodMUCK
Portrait
Robin Hood of SherwoodMUCK Maid Marion of SherwoodMUCK Zeera formerly of SherwoodMUCK
---
HOME - GALLERY - HISTORY - PRICES - LINKS
---
Maintained by radissima@geocities.com


---
This page is for use as a student project for USF and is not intended for commercial use. All images found on this page are the sole property of Radissima. Any unauthorized use, reproduction, or redistribution of these images is strictly forbidden by law. Besides, stealing is bad Karma...