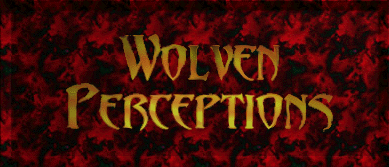 ---
Welcome to the homepage of Wolven Perceptions, a
small organization that creates original furry artwork.
---




---
This page was last updated: January 21, 1998 Maintained by radissima@geocities.com A total of
people have visited this page so far...
---
This page is for use as a student project for USF and is not intended for commercial use. All images found on this page are the sole property of Radissima. Any unauthorized use of these images is strictly forbidden by law. Besides, stealing is bad Karma...
---


This FurRing site is owned by Wilf.
Click for the [ Next Site | Skip a Page | Random Page | List ring pages ]
Want to join the ring? go to the FurRing Home Page!